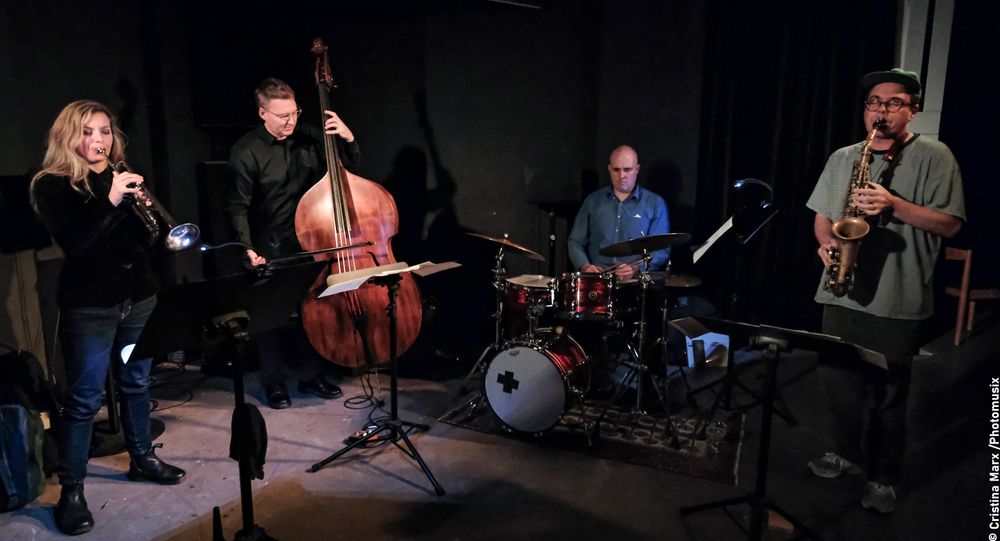 LINA ALLEMANO FOUR
LINA ALLEMANO trumpet, compositions
BRODIE WEST alto saxophone
ANDREW DOWNING double bass
NICK FRASER drums

>> NEW ALBUM VEGETABLES out April 11, 2021 on LUMO RECORDS !

LINA ALLEMANO FOUR is an acoustic chamber-jazz quartet that plays Allemano's original music, written specifically for the group with a mandate of strong group interaction, improvisation, and sonic exploration. Each member of the group is a creative and highly expressive soloist and improviser in his/her own right, bringing equally important and distinctive musical character and contributions to the band's collective sound since 2005.
Hailed as one of Canada's leading cutting-edge ensembles, LINA ALLEMANO FOUR is known internationally for their inventiveness, playfulness, and synergy as they deftly blur the line between composition and improvisation. The band has been touring extensively since 2005 all across Europe, USA and Canada. Their music has been described as abstract melodicism, combining lush colours with dense free-flowing rhythmic textures. The band's first 4 albums received many accolades internationally, and their 5th release, Sometimes Y (2017), received even more international praise and recognition than any of their previous releases. Their 6th album, Vegetables (2021), released April 11, 2021 on Lumo Records.
 
"Rooted in a dynamic, creative tradition with an openness to the imminent possibilities of the musical moment" - Stuart Broomer, Musicworks Magazine
"Listening and reacting to each other almost telepathically" - S. Victor Aaron, Something Else! Reviews
"Elements of tradition and experimentation collide fascinatingly" - Stef Gijssels, The Free Jazz Collective
BAND DISCOGRAPHY on LUMO RECORDS:
Lina Allemano Four, Vegetables (2021)
Lina Allemano Four, Sometimes Y (2017)
Lina Allemano Four, Live at the Tranzac (2012)
Lina Allemano Four, Jargon (2010)
Lina Allemano Four, Gridjam (2008)
Lina Allemano Four, Pinkeye (2006)
Vegetables
Lina Allemano Four
0:00/3:45

0:00/5:05

0:00/7:59

0:00/5:08

0:00/6:48

0:00/7:41
Sometimes Y
Lina Allemano Four
"Lina Allemano and her band have created an eclectic sound that makes its own synthesis of tradition and avant-garde, of structure and freedom, of clever composition and emotional depth, of abstraction and warmth... beautiful and moving and fun." - Stef Gijssels, The Free Jazz Collective