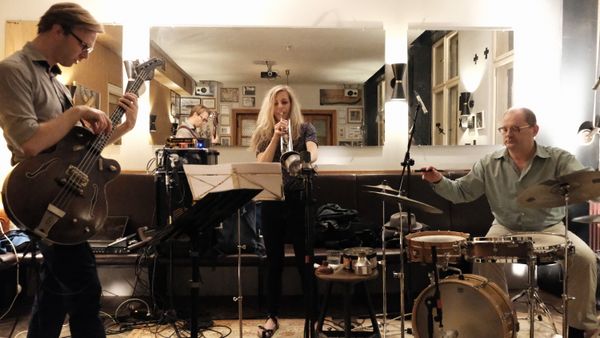 Lina Allemano's OHRENSCHMAUS
LINA ALLEMANO (Canada) trumpet, compositions
DAN PETER SUNDLAND (Norway) electric bass
MICHAEL GRIENER (Germany) drums

Lina Allemano's OHRENSCHMAUS is internationally recognized as an exciting, adventurous and virtuosic improvising Berlin-based power-trio. Formed in 2017, the trio is fronted by Canadian trumpeter, improviser, composer Lina Allemano and flanked by Norwegian bassist Dan Peter Sundland and German drummer Michael Griener. Their music is equal parts melodic and gestural, playing Allemano's distinctive original compositions with a mandate of strong group interaction, improvisation, and sonic exploration. Their debut album Rats and Mice was released on Lumo Records to wide international acclaim in 2020 with favourable reviews in many noteworthy international publications in many different languages. Their album was also included in NPR Jazz Critics Poll Best Music of 2020 (USA), Citizen Jazz France Best New Albums (2020), and PAN M 360 Top Albums of 2020 (Canada). The band was a featured act at Jazzfest Berlin in 2020.
Rats and Mice
Lina Allemano's Ohrenschmaus
0:00/4:52

0:00/4:59

0:00/4:07

0:00/6:53

0:00/5:01

0:00/6:04

0:00/7:06